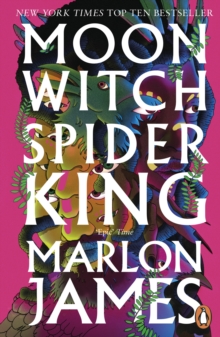 Moon Witch, Spider King : Dark Star Trilogy 2
Marlon James
More by this author...
£10.99
Sci-Fi, Fantasy & Horror
Fantasy
In this mighty follow-up to his number one bestseller Black Leopard, Red Wolf, Booker-winner Marlon James once again draws on a rich tradition of African mythology, fantasy and history to tell the story of Sogolon the Moon Witch. Part adventure story, part tale of an indomitable woman, Moon Witch, Spider King chronicles the antagonist-turned-antihero's journey from an ostracised no-name girl, hated by her brothers and made to live in a termite hill, to a woman with fully developed powers engaged in a long-standing feud with the Aesi, chancellor to the king. Offering Sogolon's version of the events of Black Leopard, Red Wolf, Moon Witch, Spider King is an unforgettable exploration of power, resistance and revenge set in a world at once ancient and startlingly modern.