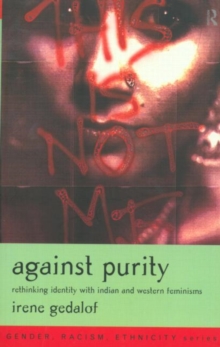 Against Purity : Rethinking Identity with Indian and Western Feminisms
Irene Gedalof
More by this author...
£17.99
Usually 7-10 days for delivery
gainst Purity confronts the difficulties that white Western feminism has in balancing issues of gender with other forms of difference, such as race, ethnicity and nation. This pioneering study places recent feminist theory from India in critical conversation with the work of key Western thinkers such as Butler, haraway and Irigaray and argues that, through such postcolonial encounters, contemporary feminist thought can begin to work 'against purity' in order to develop more complex models of power, identity and the self, ultimately to redefine 'women' as the subject of feminism. Theoretically grounded yet written in an accessible style, this is a unique contribution to ongoing feminist debates about identity, power and difference.