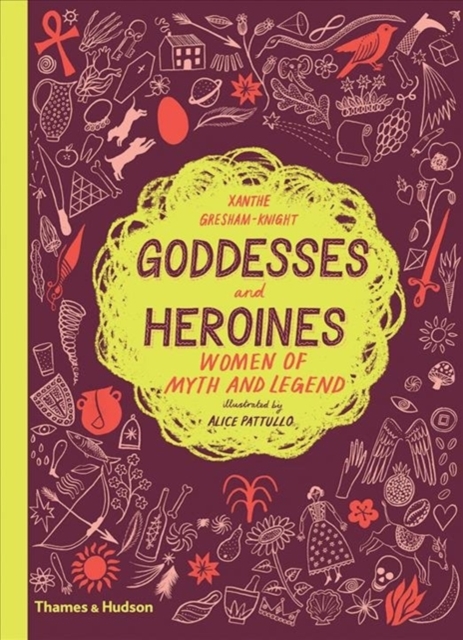 Goddesses and Heroines : Women of myth and legend
Gresham-Knight, Xanthe, Pattullo, Alice
More by this author...
£14.95
Illustrated stories from around the world that celebrate female characters in ancient myths and legends.
Told afresh for a contemporary readership, Goddesses & Heroines brings alive stories from a variety of cultures with palpable energy. We meet the youthful Aphrodite; Hecate, the maths whizz; the heroic Mulan; Oshun, the Nigerian goddess whose foresight sparked a rebellion that freed slaves; and the not-so-fair-y godmother Baba Yaga, whose bone-crunching approach to life will be an inspiration to any power-hungry young thing.
A section on the symbols commonly associated with each goddess provides context for each story and familiarizes readers with the symbols to spot her by. The endmatter includes information on how goddesses and heroines achieved their mythic status, how myths are passed on and evolve, and a map of goddesses from around the globe and how they are inter-connected.
Table of Contents APHRODITE, Greece: the girl who created the world • ISIS, Egypt: the emo who flooded the Nile • HECATE, Greece: the whizz who put Zeus into a spin • INANNA, Iraq: the daughter who ruled the world • MULAN, China: the cross-dressing warrior • BABA YAGA, Russia: the notso-fair-y godmother • PARVATI, India: the mother of many names • MAYAHEUL, Mexico: the sleepyhead with infinite energy • NANGSA, Tibet: the teen who was forced to marry • OSUN, Nigeria: the missing link • AMATERASU, Japan: the sister no-one can live without • SIMORG, Iran: the bird who renewed the earth • BRIDE, Ireland: the shapeshifting ancestor