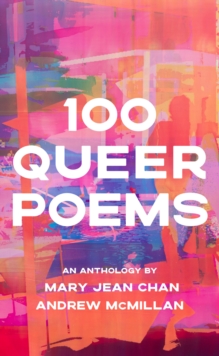 Andrew McMillan and Mary Jean Chan's luminous anthology, 100 Queer Poems, is a celebration of thrilling contemporary voices and visionary poets of the past. Encompassing both the flowering of queer poetry over the past few decades and the poets who came before and broke new ground, 100 Queer Poems presents an electrifying range of writing from the twentieth century to the present day. Questioning and redefining what we mean by a 'queer' poem, you'll find inside classics by Elizabeth Bishop, Langston Hughes, Wilfred Owen, Charlotte Mew and June Jordan, central contemporary figures such as Mark Doty, Jericho Brown, Carol Ann Duffy, Kei Miller, Kae Tempest, Natalie Diaz and Ocean Vuong, alongside thrilling new voices including Chen Chen, Richard Scott, Harry Josephine Giles, Verity Spott and Jay Bernard.
Curated by two widely acclaimed poets, Andrew McMillan and Mary Jean Chan, 100 Queer Poems moves from childhood and adolescence to forging new homes and relationships with our chosen families, from urban life to the natural world, from explorations of the past to how we find and create our future selves. It deserves a place on the shelf of every reader keen to discover and rediscover how queer poets speak to one another across the generations.
Featuring: Patience Agbabi, Kaveh Akbar, Kazim Ali, Fatimah Asghar, John Ashbery, Dean Atta, W. H. Auden, Andre Bagoo, Diana Bellessi, Jay Bernard, Caroline Bird, Elizabeth Bishop, Leo Boix, Rupert Brooke, Jericho Brown, Colette Bryce, Troy Cabida, Nancy Campbell, Jen Campbell, Toby Campion, Vahni (Anthony Ezekiel) Capildeo, Albertine Celestine, Mary Jean Chan, Chen Chen, Jane Clarke, Natalie Diaz, Jo Morris Dixon, Mark Doty, Lord Alfred Douglas, Maureen Duffy, Ella Duffy, Carol Ann Duffy, Kit Fan, Jay Gao, Rosie Garland, Harry Josephine Giles, Erica Gillingham, Thom Gunn, Marilyn Hacker, Matthew Haigh, Emily Hasler, Colin Herd, Seán Hewitt, Alice Hiller, Langston Hughes, Jay Hulme, Ian Humphreys, Amaan Hyder, Keith Jarrett, Joshua Jones, June Jordan, Jackie Kay, Aaron Kent, Jee Leong Koh, Fran Lock, Audre Lorde, Adam Lowe, Carola Luther, Lisa Luxx, Maitreyabandhu Rachel Mann, John McCollough, Gail McConnell, Andrew McMillan, Charlotte Mew, Edna St. Vincent Millay, Kei Miller, Edwin Morgan, Karl Nights, Golnoosh Nour, Mary Oliver, Wilfred Owen, Caleb Parkin, Abigail Parry, Norman Erikson Pasaribu, Holly Pester, Alycia Pirmohamed, Nat Raha, Shivanee Ramlochan, Jeremy Reed, Padraig Regan, Kay Ryan, Peter Scapello, Richard Scott, Sen Seneviratne, Vikram Seth, Sea Sharp, Clare Shaw, Dorothea Smartt, Danez Smith, Verity Spott, Martha Sprackland, David Tait, Joelle Taylor, Kae Tempest, Kostya Tsolakis, Marina Tsvetaeva, Karlis Verdins, Ocean Vuong, Nathan Walker, J. T. Welsch and Gregory Woods.