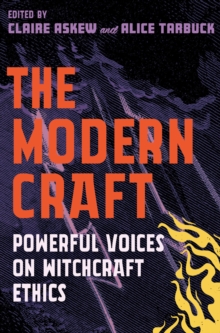 The Modern Craft: Powerful voices on witchcraft ethics
Ed. Alice Tarbuck & Clare Askew
More by this author...
£12.99
Out 12 June 2022
LGBTQ+
Feminism
Witchcraft & Occult
The Modern Craft is an eclectic and radical collection of essays on witchcraft practice and the ethics of magic, which gives that much-needed modern context to timeless wisdom. It offers a fascinating snapshot of contemporary occult practice viewed through an intersectional lens. Essay topics include:the ethics of decolonization, meditations on what it means to honour Mother Earth during the Anthropocenethe reclamation of agency for working-class and queer witches through practical spellworka gender-fluid perspective on breaking down traditional hierarchies in magical symbolisma day in the life of a disabled Pagan Irish practitioner
Inspiring and electrifying glimpses from the brink of the contemporary Craft, these essays show how anyone, no matter who they are, can find positivity and the force for change in the subversive unknown.
Contributors include: Claire Askew, Lisa Marie Basile, Stella Hervey Birrell, Jane Claire Bradley, Madelyn Burnhope, Lilith Dorsey, AW Earl, Harry Josephine Giles, Simone Kotva, Iona Lee, Briana Pegado, Megan Rudden, Sabrina Scott, Em Still and Alice Tarbuck.