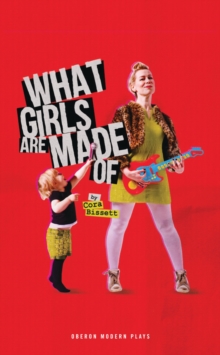 It's 1992. In a small town in Fife, a girl is busting to get out into the world and see what's on offer. And an ad in the local paper declares: Band Seeks Singer.
Grunge has just gone global, scruffy indie kids are inheriting the earth, and a schoolgirl from Glenrothes is catapulted to a rock star lifestyle as the singer in a hot new indie band. Touring with Radiohead, partying with Blur, she was living the dream. Until she wasn't.
What Girls Are Made Of is the true story of Bissett's teenage years, based on her meticulously detailed, pull-no-punches diaries, which she found after the death of her father. It's a rollercoaster journey from the girl she was to the woman she wanted to be: rocketed into teenage stardom, suddenly dropped by their manager, and then the following of years of becoming an actor, writer and director. Described by Miro Magazine as "a glorious mixture of harrowing and life-affirming messages", the script also includes a play list of female-led soundtracks, that were played in the production.