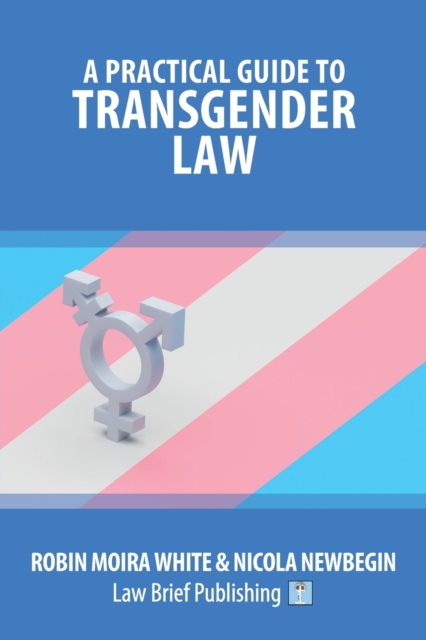 A Practical Guide to Transgender Law
White, Robin Moira, Newbegin, Nicola
More by this author...
£35.99
Usually 7-10 days for delivery
Pre-Order
Law - Human Right & Abolition
A comprehensive volume filling a notable gap in the legal library.
The book has introductory sections on the facts and language related to trans, and then substantial sections on the relevant parts of the Equality Act 2010 as related to transgender individuals, and the Gender Recognition Act 2004.
Specialist sections then follow, dealing with Associations, Asylum, Criminal Justice, Data Protection, Education, Employment, Family, Healthcare, Media, Name and Gender Marker Change; Politics and Parliament, Prison, Services, Sport, Gender-critical views, Example Policies and Reform. Some sections have been written with assistance from recognised experts in their field.
ABOUT THE AUTHORS
ROBIN MOIRA WHITE of Old Square Chambers (1995 Call) became the first barrister to transition in practice at the discrimination bar in 2011 and has lectured and written extensively on transgender matters for both employers and employees. She has been recognised by Chambers and Partners as the 'Go to' lawyer for trans matters and has an extensive practice in heavyweight discrimination. She acted in the Taylor v Jaguar Land Rover case in 2020.
NICOLA NEWBEGIN of Old Square Chambers is a former solicitor who was called to the bar in 2008. As well as having a substantial employment and discrimination practice, including trans-related cases, she is recognised for her professional disciplinary practice, especially in healthcare. She has related interests in data protection and judicial review.
REVIEWS AND TESTIMONIALS
"I've had a sneak preview of a couple of chapters of this. It's not beach reading, but it is a straightforward guide to what causes so much angst on Twitter: what the law does and doesn't say about the rights of trans people. I'm looking forward to getting the whole book." – Kate from South Uist
CONTENTS
Chapter One – Understanding Trans Chapter Two – The Equality Act 2010 Chapter Three – Gender Recognition Act 2004 Chapter Four – Associations, Clubs and Societies Chapter Five – Asylum Chapter Six – Criminal Justice Chapter Seven – Data Protection and Confidentiality Chapter Eight – Education Chapter Nine – Employment Chapter Ten – Family Chapter Eleven – Healthcare Chapter Twelve – Media Chapter Thirteen – Name and Gender Marker Change Chapter Fourteen – Politics and Parliament Chapter Fifteen – Prisons Chapter Sixteen – Provision of Services Chapter Seventeen – Sport Chapter Eighteen – Are Gender-Critical Views a Protected Belief? Chapter Nineteen – Example Trans-Inclusive Policies Chapter Twenty – Reform